With our roots set back in 1977 where a group of East Coast farmers wanted to ensure certainty around the aerial application of fertiliser, Farmers Air is a family-owned agricultural aviation business with over 40 years of experience serving East Coast farming families.
Covering a million hectares from the Mohaka River at the Southern end, through to the East Cape and back to the ranges – with the occasional job in Bay of Plenty and Waikato – we look after the top dressing needs of over 600 farmers.
Whilst the application of solid fertiliser makes up the majority of our workload, we also have the capability and expertise for seeding work, thistle spraying and rural fire fighting support.
Keen to know the story behind our logo and fleet name? You can read about it here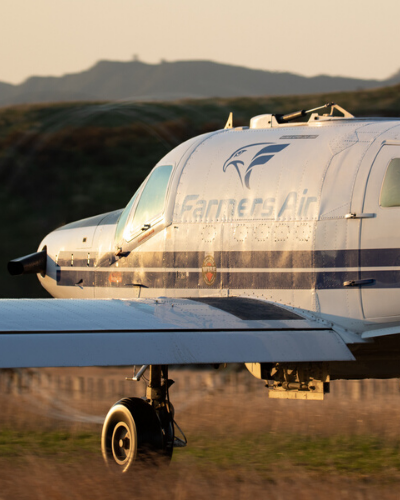 We've never been 'here today, gone tomorrow' types, because we call this place home, and the farmers of the East Coast are the heart of our business.
They are more to us than just a customer – they are our friends; they are neighbours; they are part of the family here at Farmer's Air.
From our aircraft to our support services, software and booking system we place great emphasis on R&D and ensure our technology is leading edge, and whilst we offer nothing other than the very best service, we are not corporate. We are the local guys – and when we are operating on your farm, we strive to be the best part of your day.
Our team understand the farming landscape and we know the East Coast better than anyone else. We remain mindful that our customers make their living off the land and therefore depend on us to help them keep that land in the best possible condition throughout the year. We take our role very seriously as we're proud of the prosperous farming sector in our region, so we have its best interests at heart.
It's important to us that we are accessible and responsive – we offer a hands on and involved service and we work closely with our customers to ensure their unique needs are met.
We are proud of our region and we like to give back to the community that keeps us in business.
With this in mind, we do all we can to support grass-root groups and associations that keep our region striving and thriving.
We provide a range of accurate agricultural aviation application services.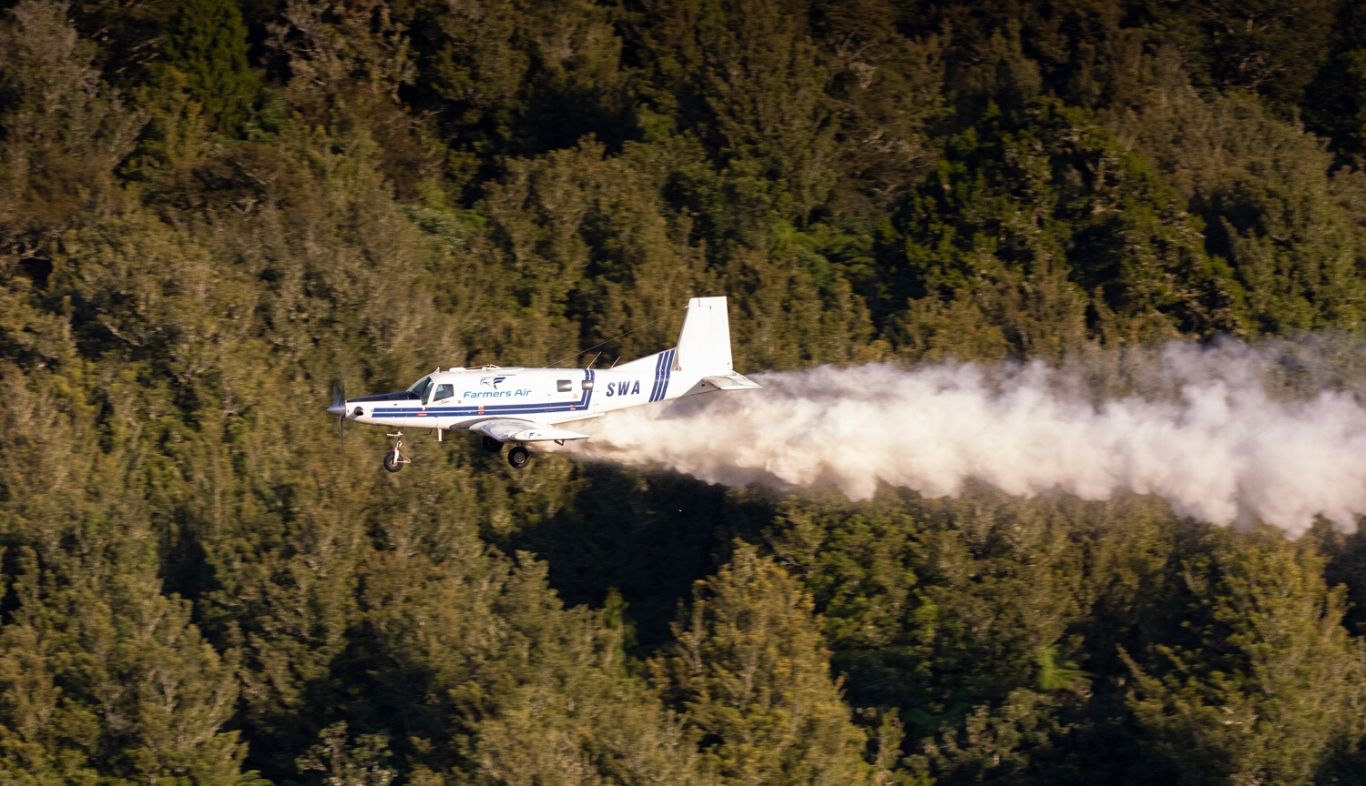 Top Dressing
The heart and soul of our business. We've been offering aerial application of fertiliser for over 40 years, and pride ourselves on innovation, customer service, efficiency and safety. To book a job online click here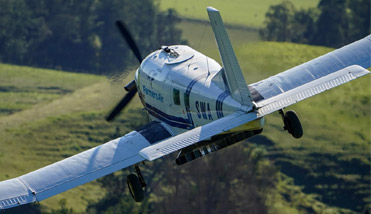 Seeding
Limited by the ability to access and utilise rugged, steep terrain? Our spreader equipped aircraft offer an efficient and effective solution for sowing seeds over terrain that can't be readily accessed from the ground.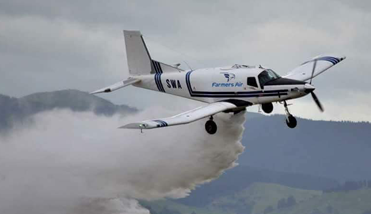 Fire fighting
Defending our land is important to us. As partners of FENZ, our aircraft enable us to support rural fire events by dropping large amounts of water over burning terrain.
Leading Edge Innovation and Fleet Technology
We don't rest on our laurels – innovation is welcomed by us and we are always looking for ways to modernise, introduce efficiencies and further promote safety in our operation.
In 2011 we undertook an evaluation and major modification process on our original Pacific Aerospace 750XL. This involved removing unnecessary weight, installing a lightweight high strength carbon fibre hopper, and incorporating a barrier air filter into the streamlined cowl which, in turn, improved performance. From this project, the Falco XL was born. You can read more about our fleet here.
GPS Application Accuracy
Nothing pleases us more than delivering a great result for our customers – and we will work day and night to do this.
If there is a superior and more cost-effective way to deliver our service, we will be the first to explore this, because saving our customers money is a key focus.
As part of our commitment to this, we use New Zealand owned and operated TracMap – a GPS guidance tool that ensures optimum accuracy and proof of release with regards to fertiliser spread. TracMap Online also helps us improve the efficiency of application.
Advanced Spreading Technology
As an independent operator, we control our costs and operations from the ground up – giving customers the best team & equipment to ensure they get the best result in the most cost effective manner.
Our internally developed computer controlled gatebox has the ability to be coupled to GPS prescription maps for variable rate spreading. This is now considered the industry standard for variable rate application, along with our independently audited gatebox and spreader attachments giving a very even spread across the paddock. This technology coupled with our industry leading aircraft makes for the most efficient platform to spread fertiliser by air.
Safely, or Not At All
Whilst we can be counted on to do what we say we will do and get the job done – we never jump the gun or take short cuts along the way.
Safety is paramount in everything we do – we set our standards high so we can ensure our team return home safely to their families each night.
We are well versed in the risks we face and what it takes to mitigate them. We are always looking for ways to enhance the safety of our pilots, our ground crew and of course, our customers – be it to person or property.
Farmers Air is an AIRCARE accredited operator – an integrated programme for aviation businesses. It brings flight safety, environmental safety and other safety related functions together in one safety assurance programme.
We like to often say, we do the job properly and safely or we don't do it at all.
Andrew Hogarth
Owner/Chief Pilot
Andrew has been involved with Farmers Air since 2001, where he started as a loader driver and worked his way up to the General Manager role before he and wife, June, purchased the business in 2016.
Originally from Nelson, Andrew's passion for agricultural aviation extends as far back as he can remember. As the son of a topdressing pilot he has learnt the industry from the ground up.
Andrew is dedicated to providing the most cost effective aerial application to his clients and ensuring his staff go home safely each day.
He and June have three children and are proud to be part of the prosperous East Coast region.
Tim Walker
Operations Manager
June Beange
Office Manager
Storm Walker
Mappng & Standards Administrator
Cherie Miller
SMS Manager
Simon Grant
Pilot (Wairoa)
Glenn Haora
Waikato Base Manager & Pilot
Phillip Harris
Ground Crew (Wairoa)
Ben Chadwick
Senior Ground Crew
Deane Moore
Mechanic/Ground Crew
Alastair Jenkins
Ground Crew
Filipe Wainibuli
Ground Crew
Michael Stott
Ground Crew